Contractor Trades Lawn Signs
Contractor Lawn Sign Special:
The signs are high quality 4 mm opaque plastic with a 2 yr. warranty on ink fading and a 4 yr. warranty on the plastic.
These signs you can re-use and will still look nice over time.
The minimum number of signs printed at one time is 25.
The price per sign for 18" x 24" signs printed on both sides with 1 color would be $8 each. For 2 colors would be $10 each.
I will do the setup of the artwork and text on the signs for $25 for the job. Metal stands for the signs are $2 each.
If you want the signs mailed or shipped to you, I would just charge you what ever the cost of the shipping is. We could possibly arrange to meet in the Cities and I give you the signs and we save on the shipping.
Please let me know if this will work for you, or if there are some adjustments that we can make.
The signs would be ready for pickup or delivery 2 days from the time that we submit the artwork.
What do you have for images or text to put on the signs? If you can email me a description of what you want on the sign, then I will write you back with an estimate of how long it will take me to do the artwork. After the artwork is designed, I would email you a copy for your approval prior to printing.

Example Of One Color Contractor Lawn Sign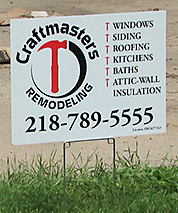 Two Color Contractor Sign
Contractor's Lawn Sign Special
The minimum number of signs that can be printed at one time is 25.
The signs are 18" x 24" printed on both sides.
With 1 color the signs are only $8 each.
With 2 colors the signs are only $10 each.
Shipping is extra depending on location the signs will be shipped to.